Carla Moiso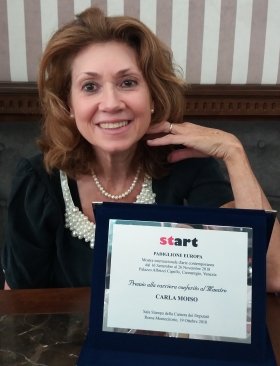 A sensitive, refined artist known for her continuous research examining the nexus between art and fashion, Carla draws inspiration from everyday life seen from the vantage point that comes from being a Venetian. Her work captures the essence of this poetic city with a romantic flair reflected in the chromatic vibrations of the fine silk fabric which she has chosen as her medium of expression.
To have one of her creations is not simply an accessory; it is its own unique masterpiece that reminds its owner of a Venice that is transitory and fragile; a place that reminds all who visit that reality constantly changes and is never as it seems.
With any piece in her collection one can see how she captures this transience using a Flemish influence that evokes the style of great masterpieces in times past–using a harmony of colors and an elegance of form.
An established painter, Carla has exhibited in major international exhibitions receiving numerous awards and recognition. Her works can be found in collections around the world.
In 2018 she received a Lifetime Achievement Award in the italian Chamber of Deputies.
"Doreanfashion is the realization of a dream: to transfer my works to precious fabrics so that they can be worn. Like life, Venice is unique, fascinating, unpredictable; you can never discover it all the way, but you can immortalize it's essence on a painting and relive it through the lightness of a silk stole or the elegance of an intangible dress. In these moments we can stop time and what excites us becomes ours. ".